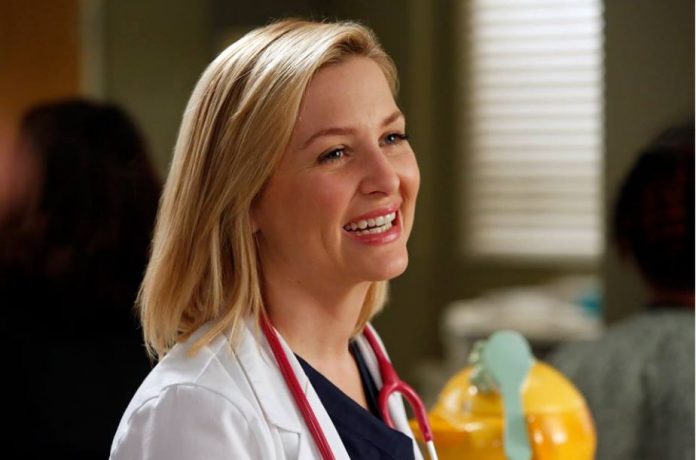 The doctors will go on a trip down memory lane in the upcoming, brand-new installment of ABC's "Grey's Anatomy" season 13.
Titled "The Room Where It Happens," episode 8 features a challenging case for Grey Sloan Memorial Hospital. Meredith (Ellen Pompeo), Richard (James Pickens, Jr.), Owen (Kevin McKidd) and Stephanie (Kendall Joy Hall) perform a difficult surgery that brings back pivotal memories for them as they work together to save a life.
Down the line, for the current run's winter finale, Alex (Justin Chambers) has to make a big decision that could have life-changing consequences. Dubbed "You Haven't Done Nothin'," Alex believes he is going to jail soon which makes him think about the future.
Elsewhere, the hospital is overrun with victims of a building collapse. Meanwhile, Richard demands answers from Bailey (Chandra Wilson) about Eliza's (Marika Dominczyk) presence in their hospital.
On a related note, TV Line shared that there is still no news about the potential return of fan-favorite character Callie Torres (Sara Ramirez). Instead, fans can look forward to an episode set entirely on board a commercial airliner that experiences a crisis mid-flight. The doctors who will be in the middle of the situation remain under wraps.
Some hope that it could be Callie given that she shares a bi-coastal custody arrangement with Arizona (Jessica Capshaw) for their daughter Sofia. However, sources close to the star revealed that there is no current plan for her to come back to the show.
When it comes to Arizona's new love interest, the news outlet set the record straight that despite Tessa Ferrer's return as Leah, she will not be the one. There are speculations that it could be the most recent newcomer, Dominczyk. The "Scandal" alum has booked a guest stint for an unspecified number of episodes. However, it remains to be seen if this comes to fruition.
Season 13 episode 8 of "Grey's Anatomy" is slated to air on Thursday, Nov. 10 at 8 p.m. ET. It will be followed by episode 9 on Nov. 17.