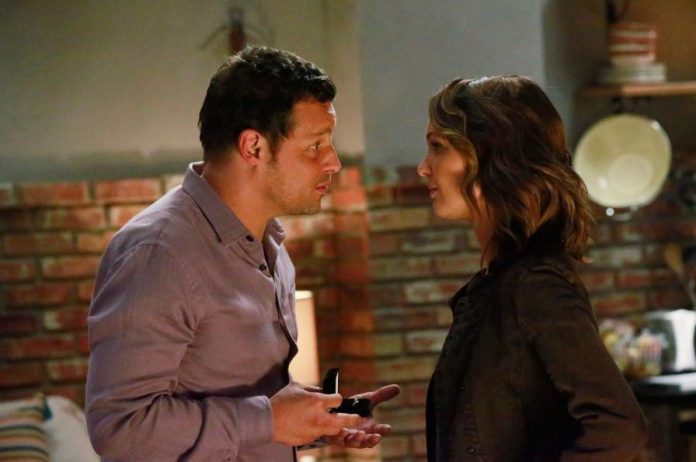 This week on "Grey's Anatomy," Meredith (Ellen Pompeo) relived Derek's (Patrick Dempsey) painful death as she and some of the Grey Sloane veterans worked on a delicate operation.
The episode focused on Meredith, Owen (Kevin McKidd), Stephanie (Jerrika Hinton), and Richard (James Pickens Jr.) as they worked in the operating room, and the hour showed flashbacks from each of the doctors' lives. In the flashbacks, viewers met some new characters including Richard's mother and Owen's sister. Towards the end of the episode, fans were in tears as Meredith thought back to the day when she told her children that their father had died.
Later, Meredith was able to save their patient's life by making a difficult decision, and while she was washing up, she had a vision of Derek standing in the operating room, wearing his scrubs and smiling at her.
Derek's five-second return destroyed fans as they took to the show's Twitter account to comment on Dempsey's brief scene.
"That was the most painful and beautiful scene of this show," one wrote. Others tweeted that the scene had them sobbing, and another pointed out that the song playing in the background was Meredith and Derek's theme.
After the episode aired, Pompeo took to her Instagram account to share an email sent to her and her cast mates by showrunner Shonda Rhimes, thanking them for their stellar performance in the emotional episode.
"Just a note to let you all know how beautiful I think tonight's performance of Grey's Anatomy is," wrote Rhimes. "I am so proud to work with you and seeing the outcome of an episode like this makes me even prouder."
Next week, in the episode titled "You Haven't Done Nothin'," Alex (Justin Chambers) makes a huge decision about his future as he thinks that he is going to jail soon. While the hospital is filled with victims of a building collapse, Richard demands answers about Eliza's (Marika Dominczyk) presence at Grey Sloane.
In the promo for the episode, the doctors are frantic as they race to save lives, while Alex tells Meredith that his trial is set for the next day, and she tells him that he will be destroyed. Jo (Camilla Luddington) tells DeLuca (Giacomo Gianniotti) that they want her to testify. Later, Jo tells Alex the truth on why she keeps turning down his marriage proposal.
"Grey's Anatomy" airs Thursdays at 8 p.m. ET on ABC.