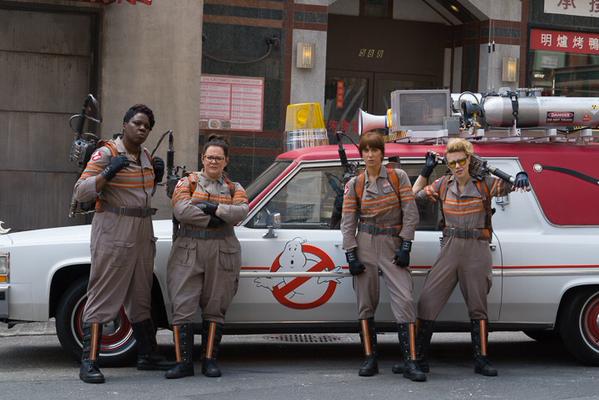 Long before the first full trailer for the "Ghostbuster" reboot was released, the movie has met a couple of negative reviews from both fans and critics whether due to casting or that some people just don't think that a revival is needed. However, when the first official clip of the movie finally dropped three days ago, it turns out that Leslie Jones's character will be the center of attention of the all-female movie cast.
The problem is rooted on film casting as the combination of three white academically-equipped characters and one "street smart" black person caused some people to raise their eyebrows in terms of diversity and stereotyping in the movie.
In response to the ongoing backlash, Jones took it to her Twitter account to air her thoughts on the matter via a barrage of tweets.
"Why can't a regular person be a ghostbuster. Im confused. And why can't i be the one who plays them i am a performer. Just go see the movie," she started.
"Regular People save the world everyday so if I'm the sterotype!! Then so be it!! We walk among Heroes and take them for granted," she added.
In the end, she confidently stated that the gender, race, and class should not really be the one magnified but the overall movie.
"ITS NOT A MAN, WOMAN, RACE, CLASS THANG!! ITS A GHOSTBUSTER THANG!! AND AS FAR AS IM CONCERNED WE ALL GHOSTBUSTERS!! STAND TALL!!" the actress' last tweet read.
In the original installment, Ernie Hudson, who played Winston Zeddemore, the role Jones is somehow reprising, wrote a blog post to Entertainment Weekly. As reported by Independent, Hudson said that Winston's character had an elaborate background and was penned amazingly to the point that he thought it would be career changing. Unfortunately, things took a turn just before filming started.
"The night before filming begins, however, I get this new script and it was shocking. The character was gone. Instead of coming in at the very beginning of the movie, like page eight, the character came in on page 68 after the Ghostbusters were established. His elaborate background was all gone, replaced by me walking in and saying, 'If there's a steady paycheck in it, I'll believe anything you say.' So that was pretty devastating."
"Ghostbusters" reboot will hit the cinemas on July 15.