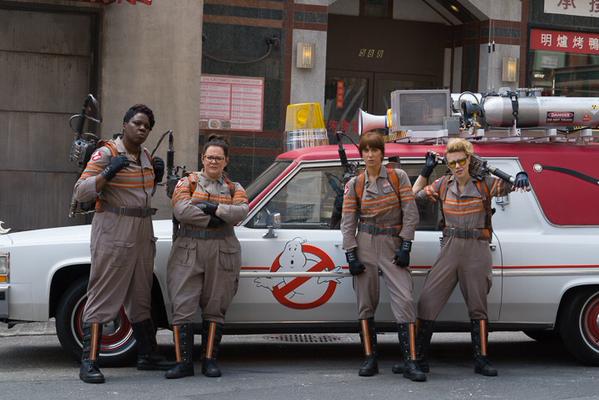 With the production of the all-female reboot of the classic Ghostbusters on its way to completion, director Paul Feig has constantly been indulging fans with details of the much-awaited film slated for release on July 22, 2016.
Feig took to Twitter to announce the names of the four protagonists when a user asked him, "Okay, here you go. Erin Gilbert, Jillian Holtzmann, Abby Yates and Patty Tolan. Now you know even more," he answered.
Although he did not specifically say who among Melissa McCarthy, Kristen Wiig, Kate McKinnon, Leslie Jones have each character's name, reports claim that McCarthy may be playing Yates as she was earlier seen with a nametag with the surname.
The director also revealed the revamped look of the iconic Proton Pack. A labelled design showed a crossover of a vacuum cleaner and pressure washer with its Hydrogen Ionization Chamber and Proton Injector, Miniaturized Superconducting Proton Synchotron, Plasma Ignition Chamber and Spectral RF Feedback Parameter Display. The pack is said to be larger than its previous model.
Moreover, Deadline exclusively reported that Saturday Night Live alum Neil Casey has landed the role of the villain supposedly called as Rosey. The report noted that the creative team is being secretive about the details of the character but he may be likened to the antihero Janosz Poha in Ghostbusters II as he looks like Peter MacNicol.
Starring alongside the lead characters are Chris Hemsworth as the male version of the receptionist Janine Melnitz, Kevin; Michael Kenneth Williams as Hawkins; Andy Garcia as New York City mayor; Matt Walsh as Rourke; and Pat Kiernan as a newscaster.
The script of the film is penned by Feig and Katie Dippold. Original creator Dan Aykroyd, together with Jessie Henderson, Michele Imperato, Ivan Reitman and Amy Pascal are credited as producers of the reboot.