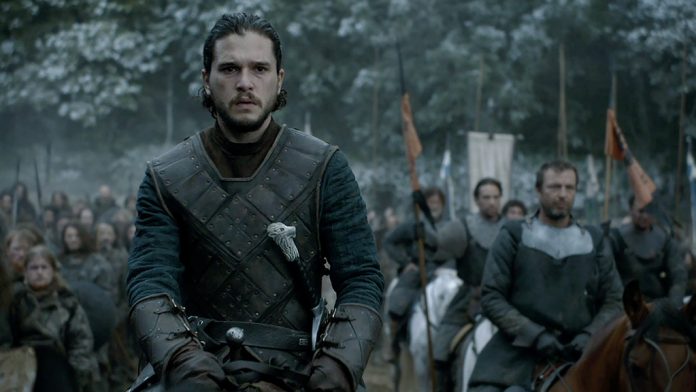 The cast and crew of "Game of Thrones" are currently in Spain filming the seventh season of the HBO series. Over the past few weeks, several leaked pictures from the set have made the rounds online, setting the internet ablaze with spoilers for the upcoming installment. Recently, fans have learned that two major characters are going to have their first meeting next season. Now, more spoilers have emerged, and it was claimed that season 7 will feature an epic battle involving two armies, one dragon, and several key players in the series.
According to Watchers on the Wall, the show has just wrapped filming in Italica's amphitheater, which is claimed to be the setting wherein Jon Snow (Kit Harington), Daenerys Targaryen (Emilia Clarke), Cersei Lannister (Lena Headey), Tyrion Lannister (Peter Dinklage) and more characters will converge to talk about the White Walker threat.
Hafr Jlus Bjrnsson, who plays Ser Gregor "The Mountain" Clegane in the series, is said to be included in the scene, and the actor recently took to Twitter to tell his followers about his experience filming the scene.
"Just finished 13 hour day of filming," Bjrnsson tweeted on Monday, Nov. 7. "No time for rest. Next up training!"
WoW claims that filming will now move to a private estate by the name of Las Breas, which is said to endure the longest "Game of Thrones" shoot in Spain. It was reported that a big battle scene will be filmed in the area, which will involve at least one dragon, two armies, and plenty of main characters. It was said that Jaime Lannister (Nikolaj Coster-Waldau) will be part of the action-filled scene, as well as Ser Bronn (Jerome Flynn), among others.
This could be the fight between Cersei and Daenerys' forces as they battle for the Iron Throne, as fans are expecting the two women to clash in the upcoming season. The Khaleesi will likely get some help from her new ally, Jon Snow, as the two characters were seen filming together, and it was claimed that the two have formed an alliance against the Queen of the South in season 7.
"Game of Thrones" season 7 premieres in summer 2017 on HBO.