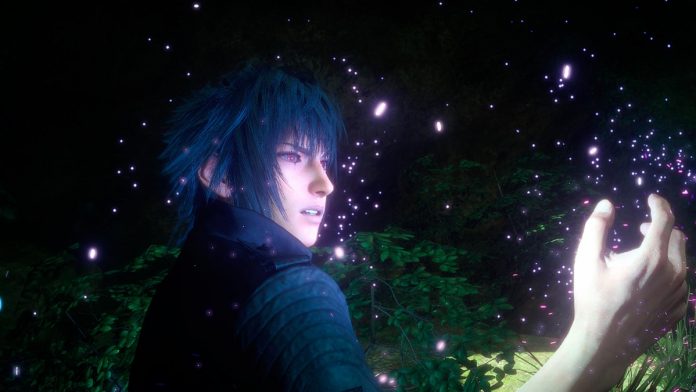 The upcoming "Final Fantasy XV" game, like almost all of the games that were released in the franchise, will be featuring the use of magic by its characters as well. Game Director Hajime Tabata repeatedly teased the upcoming game's magic mechanics in the past, but it is only now that fans got a first look and official information about how magic will be working. A preview of an unfortunate Magitek Armor receiving a magic attack from one of the characters was shown, too.
As reported by Siliconera, more new details about the upcoming Square Enix title "Final Fantasy XV" surfaced in j\Japan via the weekly "Jump" Magazine. A scan shared by a Twitter user revealed the the magic mechanics of the game. A series of screenshots showed characters using fire magic on various occasions. Noctis, particularly, was shown in one screenshot as he cast fire on one Magitek Armor, dealing multiple hit damage.
Also, the game's magic will seem to have environmental effects. For example, it was mentioned that when a player casts fire on a grassy area, the grass at the surrounding area will also catch fire. The more the player casts fire in the area, the larger the fire in the surrounding area gets. Soon after, it will have a negative effect on the party members of the players as they will eventually feel daunted by the fire around the area.
"Final fantasy XV" will be released sometime this year for the PlayStation 4 and the Xbox One. More details regarding the game is expected to be revealed in the upcoming Active Time Report session that will stream online at the end of the month. The event will reveal new gameplay footage, a closer look at the game's Niflheim Empire, and many more.