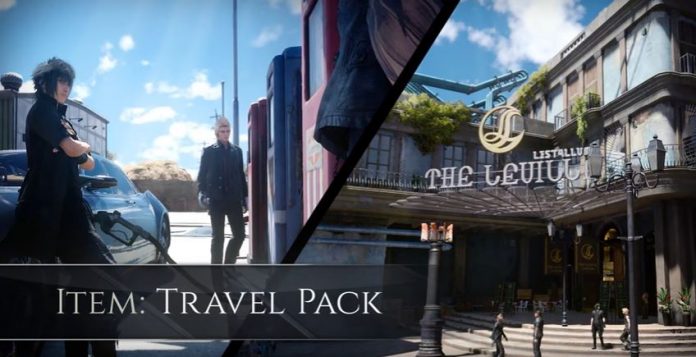 "Final Fantasy" fans are counting down the days until the next game in the series hits the market as "Final Fantasy 15" is slated to make its debut later this month. Ahead of the game's release, Square Enix has uploaded 16 different trailers on the title's official YouTube account which details all the different downloadable content that one can get once the game is pre-ordered at different retailers.
Some of the content that is featured in the pre-order DLCs includes character clothing, cooking equipment and ingredients, a camera kit, and weapons, among others. The biggest bonus by far is a prequel game called "A King's Tale: Final Fantasy 15" which will give players access to a world set 30 years before "Final Fantasy 15," and the game will have retro-style graphics with a fast-paced combat system.
Here's what players can get once "Final Fantasy 15" has been pre-ordered:
Travel Pack: Pre-order the game from Amazon US and get this pack which will enable playable characters to globetrot in style.
Angler Set: This set is included for both Sony and Microsoft versions of the game, as well as the Ultimate Edition. With this DLC, players can go fishing on Eos and win the title of Ace Angler.
Gourmand Set (two types of rare cooking ingredients): Camping can be so much fun with this DLC that allows campgrounds to be turned into kitchens.
Camera Kit: Players can indulge their inner photographer as they capture scenes of their character's travels and adventures with this DLC.
Recolor: 16 Bit Buddies: This is available for digital pre-orders through Sony and Microsoft. Players can decorate their vehicles with pixel art decals of Noctis and his friends with this add-on.
Recolor: Gold Chocobo: Get this DLC upon pre-order from Amazon NA. Gamers can gild their cars in the trademark colors of the Chocobo bird.
Recolor: Cindy Mobile: This is available when pre-ordering from the Square Enix Online Store in North America.
Recolor: Platinum Leviathan: Pre-order the Deluxe or Ultimate Edition of "Final Fantasy 15" and get this DLC to decorate one's ride as an homage to the game's famous dragon.
Theme: Big Bang: Pre-order from Sony PlayStation Network to get this feature.
Costume Royal Raiment: Those who pre-ordered the Deluxe or Ultimate Edition of the game can get this DLC and gain access to elegant formal wear for playable characters.
Xbox One FFVX Avatars: This DLC features Noctis Costumes and Carbuncles and players can get this upon pre-order from Microsoft.
Weapon: Mage Mashers: This DLC can be had upon pre-order from Amazon US. With this weapon, players can decimate enemies by mashing them into mincemeat.
Weapon: Gae Bolg: Pre-order from Amazon US and intimidate enemies with this dragon lance.
Weapon: Masamune: All pre-orders will get this legendary sword to cut down foes.
Blazefire Saber: Pre-order from Amazon US and get Lightning's signature weapon as a bonus.
A King's Tale: Final Fantasy XV: Pre-order from GameStop or EB Games to get this prequel game with retro graphics.
"Final Fantasy 15" will be released for Xbox One and PlayStation 4 on Nov. 29.