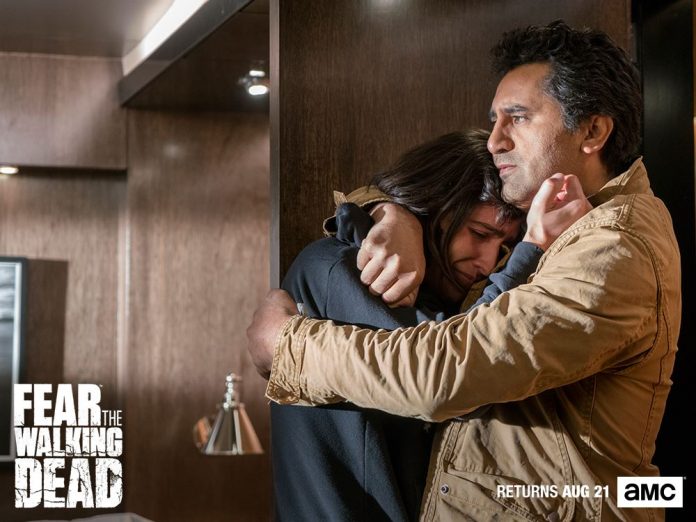 Star Cliff Curtis dishes on how AMC's hit spin-off "Fear the Walking Dead" has become a career game changer for him.
With season 2 currently on a midseason break, the actor went home to New Zealand where he was honored at the first Matariki Awards which celebrates extraordinary Maori achievement across a range of areas. He took home both the top Arts and Entertainment honor and the Supreme award.
During "The Paul Henry Show," Curtis shared how his role as Travis Manahan has significantly shifted his experience in the industry, "The numbers, and the association with the brand, with a franchise of that scale, that was clearly the strategy, to hook myself to that little train and see where it took me." he stated.
When it comes to his character's arc moving forward with the second half of the season, he previously shared that he thinks Travis "is the slowest one to adapt and the last one to take action," especially when compared with Madison (Kim Dickens). The latter has somewhat become the leader of the team in the sophomore run while Travis left his friends to take care of his son Chris (Lorenzo James Henrie).
On a related note, there are speculations that although Nick (Frank Dillane) seemed delusional during the midseason finale, when the hacienda rose into flames, fans believe he can snap out of his apparent temporary insanity.
Executive producer Dave Erickson confirmed that the outbreak of the fire has disturbed the character, especially after he believed that he finally found his place in the world; however, it had been lost and compromised so abruptly.
"This is behavior consistent with what Nick would have done in the old world, let's put it that way. There is a certain degree of selfishness in his behavior and his addiction, and that always takes precedence over everything else," Erickson told Entertainment Weekly.
Some of the show's followers think that he will rejoin the rest of survivors once he goes through the tough phase. However, it remains to be seen if it comes to fruition.
Season 2 of "Fear the Walking Dead" returns with episode 8 on Aug. 21.