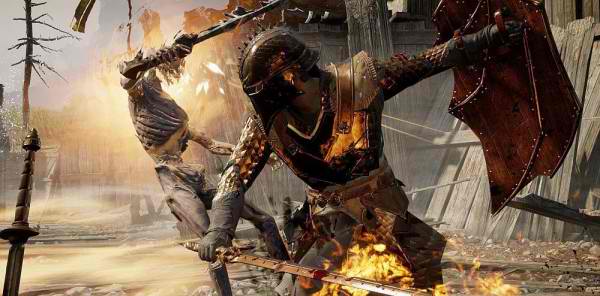 It is already a known thing that a new story-based DLC is on the work's for BioWare's Dragon Age: Inquisition. The last one was Jaw of Hakkon, and for a while gamers have been patiently waiting for any details, if not a release, for the new DLC.
Just recently, a post over the BioWare forum showed an alleged survey form depicting the details for the upcoming Dragon Age: Inquisition story-based DLC. Based on the survey form, the upcoming DLC pack sounds like the final expansion and is set to bring about the conclusion on the Dragon Age: Inquisition storyline. There are new locations promised, epic and great fights ahead are hinted, and tougher and more challenging gameplay is assured.
Here is the synopsis of the alleged DLC, according to the post:
Having saved the world of Thedas by closing the Breach, your next mission will determine the future of the Inquisition. Your mark suddenly glows, erupting with magic connected to the Fade. Assassins attack in shadow. An invasion of enemies begins. Win a race against time to face a great evil before it is too late. In this story-based expansion, playable after the events of Dragon Age: Inquisition, you will embark on a last adventure with your team to confront the one who started it all.
Aside from the synopsis, the leaked survey form also detailed the new features that the DLC pack is set to bring in to the game. As mentioned before, epic fights, new locations, and tougher gameplay experience can be expected.
Test your mettle against the full force of the disciplined and battle-hardened Qunari army
Explore diverse, new areas as you fight the threat across the whole of Thedas
Uncover secrets of the Fade that will change your understanding of the world as you know it
Prove your skill with a new, optional gameplay mode that challenges even the most seasoned veteran
No release date was hinted on the survey, only that the upcoming DLC pack, should what the survey says rove true, may come for a price of $14.99.
The previous DLC pack, Jaws of Hakkon, featured new armors, weapons, enemies, as well as introducing a new region, Frostback Basin. A multiplayer DLC pack was also released recently, the Dragonslayer and The Black Emporium, where the "Mirror of Transformation" was introduced, allowing players to change their appearance.