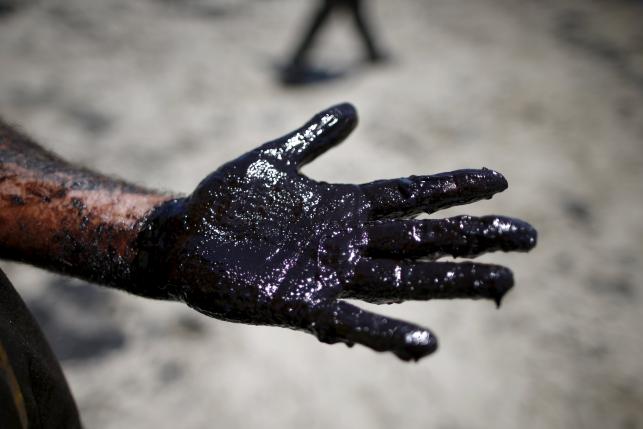 Cleanup teams labored on Thursday for a third day to remove patches of crude petroleum that stained a California beach and fouled offshore waters from a pipeline rupture that may rank as the biggest oil spill to hit the Santa Barbara coastline in more than four decades.
As much as 2,500 barrels (105,000 gallons) of crude oil, according to latest estimates, gushed onto San Refugio State Beach and into the Pacific west of Santa Barbara when an underground pipeline running parallel to a coastal highway there inexplicably burst on Tuesday morning.
Plains All American Pipeline, which owns and operates the 24-inch line, said it shut off the flow about 30 minutes after control-room operators detected pressure irregularities.
By then, however, a torrent of oil had streamed down a canyon, under a culvert and out onto the once-pristine beach, blackening a 4-mile (6-km) stretch of sand and rocks and leaving two oil slicks in the water spanning more than 9 miles (14 km) in length.
The company estimated that up a fifth of the spill that spilled had reached the ocean.
Environmental activists and local officials said it was believed to be the largest oil spill in 46 years along the ecologically sensitive but energy-rich Santa Barbara shoreline, about 125 miles northwest of Los Angeles.
If the pipeline company's "worst-case" estimate of its oil release holds up, it would mark the biggest in the region since a 1969 offshore oil well blowout that dumped 80,000 to 100,000 barrels of crude petroleum into the Santa Barbara channel and stands as the largest spill ever in California waters.
That disaster, which dwarfs the apparent size of Tuesday's accident, killed thousands of sea birds and other wildlife and helped spark the modern U.S. environmental movement.
Still, Governor Jerry Brown on Wednesday declared a state of emergency for Santa Barbara County to hasten the availability of any resources needed at San Refugio.
Wildlife teams were immediately dispatched to rescue any animals injured by the spill. Authorities said they did not know the extent of wildlife harm, but photos showed oil-covered pelicans and other sea life washed ashore.
By Wednesday, more than 300 cleanup workers were toiling around the clock, scooping up globs of oil from the sand and raking tar balls.
Officials overseeing the operation said additional personnel would arrive on Thursday. Crews will also scrub soiled rocks and hose down contaminated areas, Coast Guard Captain Jennifer Williams said.
Meanwhile, nine cleanup vessels plied the ocean, corralling the slick with booms and skimming oil from the surface.
Refugio State Beach and nearby El Capitan State Beach, both popular seaside camping destinations, will remain closed to the public through the Memorial Day holiday weekend. The area was also closed to fishing and shellfish harvesting.
Wildlife rescue crews focused on three especially sensitive nesting areas for shore birds, including snowy plovers and least terns, said a state Fish and Wildlife Department spokeswoman.
The pipeline that burst on Tuesday typically carries about 1,200 barrels of oil an hour from an Exxon Mobil Corp processing facility to a distribution hub in Bakersfield hundreds of miles away, company and county officials said.
The cause of the rupture remained under investigation. The company said it had inspected the pipeline a few weeks ago, but results had not yet come back.