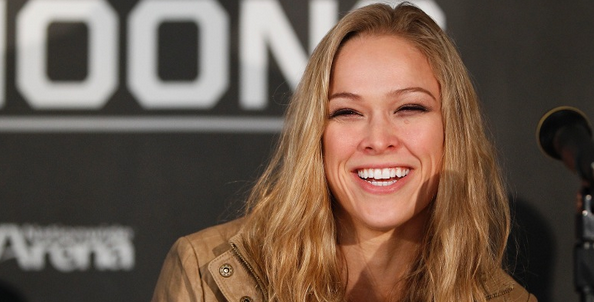 It is no secret that Ronda Rousey, UFC Women's Bantamweight Champion, wants to be Captain Marvel in the Marvel Cinematic Universe. She first floated the idea during her Reddit AMA in August. A Redditor asked her which hero she would play in a superhero movie, Rousey answered, "Well… a lot of the good ones have been taken out, but I'd like to vie for Miss Marvel."
In an interview with Entertainment Tonight, the MMA champion once again said that she would be excited to be chosen as Captain Marvel. "I'm really looking forward to doing my first starring role opposite Mark Wahlberg," she quipped. "Hopefully by the time Captain Marvel comes around, I will have enough experience and skills in the field for them to really seriously consider me."
Meanwhile, as reported by Comicbook.com, Kevin Feige, Marvel Studios President, mentioned during the blu-ray release event for "Avengers: Age of Ultron" that he loves the fact that Rousey is campaigning to win the role.
He added that even before social networking sites such as Reddit and Twitter existed, actors have been expressing their desires to play certain roles. In fact, doing so shows their dedication and the strength of the characters.
"For us, it's sitting down with people and starting to meet people and as the script takes shape and as we start to build who the character should be and finding the right person to match it up. We haven't necessarily started sitting down with people yet and meeting on that part," Feige explained. The head of Marvel Studios also mentioned that they always chose those who will best inhabit the character.
According to Marvel, "Captain Marvel" is scheduled to be released on November 2, 2018 as "Black Panther" will come first. No official announcements have been made as to who will direct the movie, and who will be cast in the film.