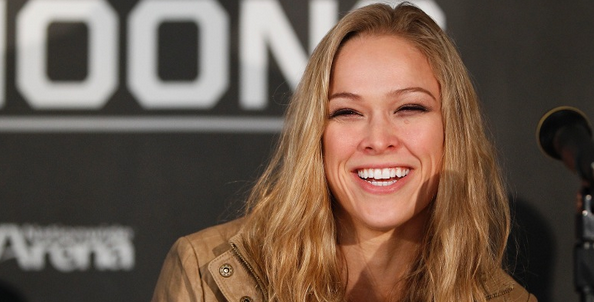 MMA Champion Ronda Rousey has previously shown her enthusiasm to play the heroine Captain Marvel in the upcoming MCU film about the character. It began with her previous Reddit AMA session, then fans got on the bandwagon with lots of fan art depicting her as the famous Marvel superhero.
This has not gone unnoticed by the people at Marvel. In fact, Marvel Studios Kevin Feige appreciates the enthusiasm Rousey is showing.
"I love it," Feige told IGN. "That happens occasionally, and I think that's a testament more to the strength of the characters."
While the athlete has had only minor acting projects to date, and is certainly not the only one who's keeping an eye on the role, the Marvel Studios head is not closing the doors on the possibility of her landing the role for real.
"You look at the ways we've cast our films in the past and it's always about who's the best person to inhabit the character, whether that is an actor like Chris Hemsworth who bulks up, or a wrestler like Dave Bautista who played Drax who ends up being an amazing performer, an amazing actor and a clever and witty and pointed comedic actor," he said. "For us, it's sitting down with people and starting to meet people and as the script takes shape and as we start to build who the character should be and finding the right person to match it up. We haven't necessarily started sitting down with people yet and meeting on that part."
Ronda Rousey is not someone new to the world of fandomsin fact, the fighter herself is another geek, as she has already repeatedly expressed her love for Dragon Ball Z, and that her cartoon crush is Vegeta. She is also a Pokmon lover, a player of World of Warcraft and Mortal Kombat, and a fan of the Game of Thrones books.
Her Hollywood credits also do not fall short, as she has already appeared in two movies so farThe Expendables 3 and Furious 7and made a cameo appearance in Entourage as herself.
Captain Marvel is part of the massive road map for the Marvel Cinematic Universe, and is scheduled to hit theaters on November 2, 2018. Before that, Captain America: Civil War opens in theaters May 6, 2016. This will be followed by Doctor Strange, Guardians of the Galaxy 2, the Spider-Man reboot, Thor: Ragnarok, and various other films leading to Avengers: Infinity War Part I and Part II, and Phase Three of the Marvel Cinematic Universe closing in on Inhumans.