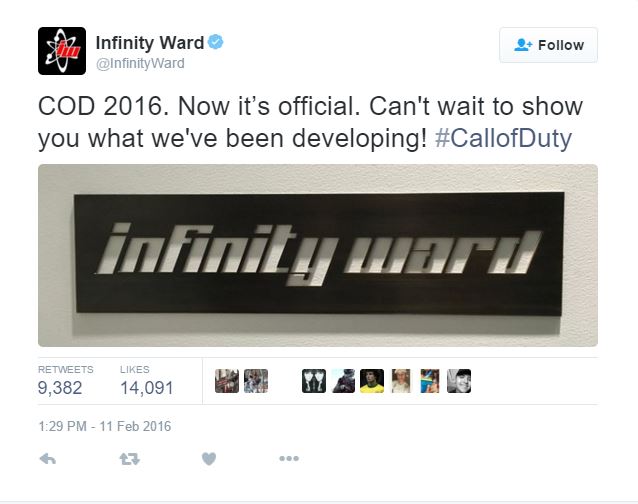 Early this month, Activision used social media to announce that the game "Call of Duty" will have a new installment from developer Infinity Ward.
On its official Twitter page, it said, "COD 2016. Now it's official. Can't wait to show you what we've been developing! #CallofDuty."
Fans are generally excited about the news, but it is still uncertain whether the game will take a different route or type of game or will just be a follow up of the other games under "Call of Duty." Nonetheless, a statement from the company's fourth quarter and full year result seemed to have given a hint on the path, as well as the release date of the sequel.
According to Activision Blizzard Inc., "In Q4 2016, Activision Publishing plans to release an innovative new 'Call of Duty' game from its studio, Infinity Ward, the makers of the Modern Warfare series," reported Business Wire.
This means that the new "Call of Duty" may most likely be a new game that is independent of their previous titles, as it has claimed that it will be "innovative."
It also seems like the new "Call of Duty" title will be released toward the end of this year, which may mean that the game will be announced sometime in June, perhaps at the Electronic Entertainment Expo (E3) event from June 14 to 16 at the Los Angeles Convention Center in California.
Still, fans will still have to take this with a grain of salt and wait for official announcement from the developers.
Meanwhile, "Call of Duty: Black Ops 3" just received the first of the four maps in the DLC pack early this month. Along with the four new multiplayer maps, the DLC also has an all-new Zombie experience. The said title also has an ongoing World League Pro Division competition, which is expected to conclude around fall this year.