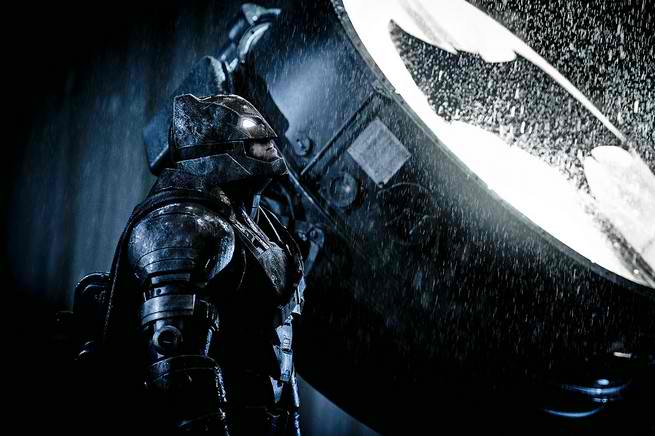 The hype is realor so it seems.
Ben Affleck has reportedly nailed the portrayal of The Dark Knight in the upcoming Batman v Superman: Dawn of Justice and will now have a trilogy of stand-alone movies in the future!
According to a report by Den of Geek!, a private screening of Batman v Superman: Dawn of Justice, exclusively held for the film's cast and crew and the bosses at Warner Bros. Pictures, resulted in a tremendous success, that Ben Affleck is now set for a trilogy of stand-alone Batman films in the future.
The movie, which was described by the source as "near finished cut but not locked", was very successfulto the point that it even got a standing ovation at the early exclusive screening.
Due to the success and the good impression it left on the bosses at Warner Bros. Pictures, the film company had reportedly gone into talks to extended the deal of Ben Affleck as The Caped Crusader, as he was seen as the "definitive Batman". Additionally, the bosses at Warner Bros. Pictures are planning to make Ben Affleck's Batman the center of the DC Cinematic Universe.
While all of these insider info may be good music to the ears, specially to die-hard fans, nothing is official as of now. Better take the news with a grain of salt.
In a recent interview with Empire magazine (via Comic Book Movie), Ben Affleck how he was singed-up as the new Bruce Wayne/Batman, and how will his version of the character fit into the timeline of the movie.
"Initially I thought, 'I'm older, it doesn't seem like the right sort of fit for me,'" actor Ben Affleck says, on his role as Bruce Wayne/Batman. "Then Zack pitched me his concept for this older, more broken, kind of f**ked up Batman. It was something we haven't seen. We have seen that Batman is willing to cross the line to protect people. That vigilantism has been a part of his character all along, and we are tapping into that mentality when faced by something as potentially as deadly as Superman."
Batman v Superman: Dawn of Justice opens on theaters March 25, 2016.