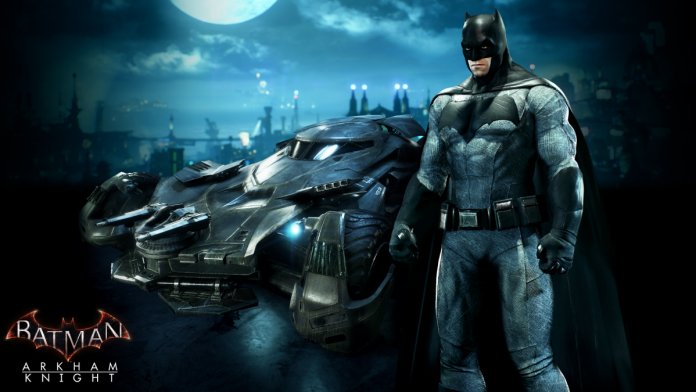 Warner Bros. Interactive has released details for the upcoming DLC pack for the Batman: Arkham Knight game.
As detailed by the official Warner Bros. Games community page, a complete list of all upcoming DLC packs for the game for the rest of the year was posted, consisting of Skin packs, Challenge packs, as well as a story expansion pack.
For the month of November, months prior to the release of the much awaited Batman v Superman Dawn of Justice, the 2016 Batman v Superman Batmobile Pack will be coming to the game. The pack will consist of the 2016 Batman v Superman Batman Skin, featuring the Caped Crusader as depicted by Ben Affleck in the upcoming film, as well as the 2016 Batman v Superman Batmobile.
While the said DLC pack will be available to everyone playing the game, players who are Season Pass holders will be given the exclusive privilege of having the new content before its official release.
Also coming this November is the Wayne Tech Pack, featuring two new game tracks: Proving Ground and Waynetech Loop. Two Arkham Episodes will also be coming: Catwoman's Revenge, taking on the story of Catwoman as she seeks out The Riddler for one final score settling encounter and A Flip of a Coin, starring Robin as he faces Two-Face, all the while dealing with the recent disappearance of Batman.
As for the December DLC pack releases, the Season of Infamy: Most Wanted Expansion Pack is coming, featuring four new missions for the game. Missions are: Beneath The Surface (Killer Croc), In From the Cold (Mister Freeze), Wonderland (Mad Hatter), and Shadow War (Ra's Al Ghul).
The December update will also see the coming of the much requested 2008 Movie Batman Skin, as well as the Original Arkham Batmobile, usable in selected free-roaming within Gotham as well as on race tracks, much like all other versions of the Batmobile available for the game.