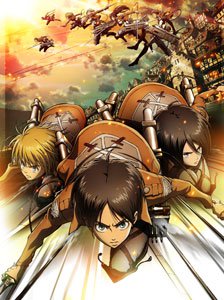 Details about the second season for the anime adaptation of widely popular manga series, "Attack on Titan", originally called "Shingeki no Kyojin", are still being kept under wraps, but spoilers have it that some of the major characters will be facing the gigantic adversaries that have breached the walls of their city.
According to reports, the 104th Trainees Squad composed of Mikasa Ackerman, Reiner Braun, Bertolt Hoover, Annie Leonhart, Eren Yeager, Jean Kirstein and Marco Bott may encounter a new breed of Titans that are described as intelligent and have similarities with apes. The group may also find the truth about the Armored and Colossal classes of Titans.
However, in an unfortunate turn of events, fan-favorite character Captain Levi may meet his demise as he tries to save Eren, Mikasa and Armin during a battle against their foes.
KpopStarz shares that the second installment tackles the fifth story arc of the series where Eren fights in a decisive combat against the Titans. It may also be revealed that some members of the squad are actually Titans.
The sixth story arc synopsis reads, "'The Uprising' arc follows the event of the fifth arc, wherein the situation inside Wall Rose becomes critical after the killing of Pastor Nick and the kidnapping of Eren and Historia. After finding out about the king's actions that would put humanity in jeopardy, Erwin begins his plan as he and his group try to execute a coup d'etat against the government."
Meanwhile, creator of the series Hajime Isayama reportedly responded to the criticisms of the live-action adaptation of the series. He told Japan Yahoo News! via translation by Kotaku that, "As for the impressions and reactions of those who were excited about the movie, I want to take in the favorable opinions and also the indignant ones, if only to understand them."
Attack on Titan's season two is slated to hit the small screen sometime in 2016.