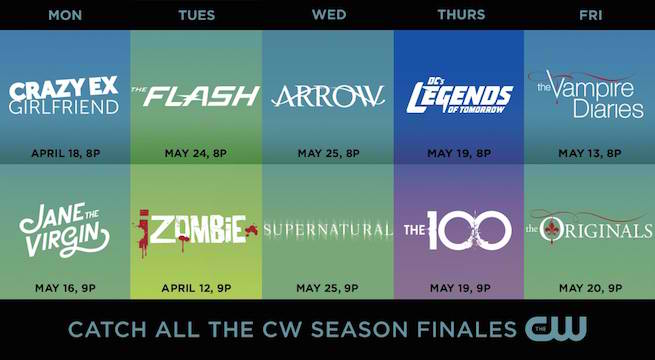 The CW recently revealed the finale dates for its top TV series for the current season, including popular DC Comics adaptations such as "iZombie," "The Flash," "Arrow," and the newest spinoff in the family, "DC's Legends of Tomorrow."
The revealed season finale dates as reported by ComicBook.com also included other non-comic book adaptation shows such as "The Vampire Diaries," "Crazy Ex-Girlfriend," "Supernatural," "Jane The Virgin," "The 100," and "The Originals."
"iZombie" will finish first this season, wrapping up the events of its second season on April 12.
Next off is the highly acclaimed first season of the newest DC Comics series to have spun off from "Arrow" and "The Flash"the time-travelling team of unlikely heroes and villains on "DC's Legends of Tomorrow." Will Rip Hunter, Firrestorm, The Atom, Captain Cold, White Canary, and Hawkgirl be able to prevent Vandal Savage from becoming the tyrant that he would be one day and save the entire timeline from becoming a salve to this immortal mad man?
As for "The Flash," will Barry Allen be able to beat Zoom and save his Earth and Earth 2? Who really is this sinister new villain? Is he Jay Garrick, or is Jay Garrick even real? These and all other questions raised for the hit second season of "The Flash" will come to a conclusion on May 24, Wednesday at 8 P.M.
This will be followed on the next day, Thursday, May 25 with the season finale of "Arrow." Who will die in the series? Will Oliver be able to defeat the powerful villain Damien Darhk? What could have happened with Oliver back in Lian Yu five years ago?
With the season finale reveals already here, The CW is still yet to announce if the popular comic book adaptations in the network will see a renewal for another season.