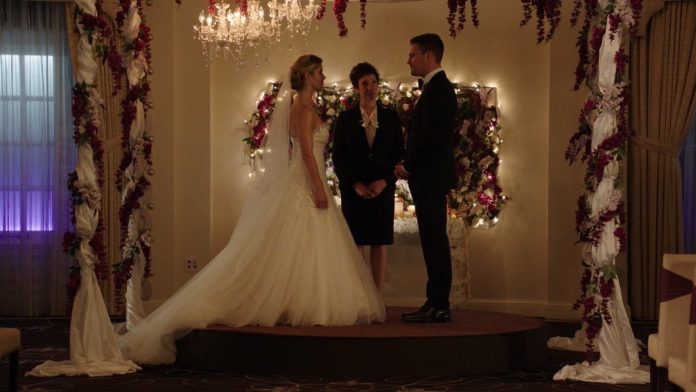 "Arrow" is currently on a short term hiatus after airing a thrilling episode this week aptly titled "Taken." In the latest chapter, Oliver (Stephen Amell) is forced by Darhk (Neal McDonough) to drop the mayoral race in exchange for his son William. Fortunately, Oliver, with the help of his team and new character Vixen (Megalyn E.K.), was able to outwit Dahk and eventually save William.
Despite the successful rescue plan, the revelation of Oliver's son shocked everyone. Amell recently talked to IGN regarding the current place his character is in right now.
"It is a dicey situation," Amell exclaimed "But that all has to wait, and I was actually very happy — because it would have been easy to get stuck in the melodrama of that situation when, realistically, there's a mother [Samanatha] who's lost her child, a father who's lost his son and an understandably worried mother. So we compartmentalize all of that stuff in pursuit of William," he added.
So now that all the chasing is over, does this mean that the show will have a dramatic turn when it comes back next month? It is hard to know yet but if how things between (Emily Bett Rickards) Felicity and Oliver are any indication when "Taken" ended, fans can expect a little bit of heartbreak when "Arrow" returns.
"It's an interesting reveal for Oliver and Felicity, and I'm very proud of how we resolve things in this episode," Amell said referencing how William will affect Felicity and Oliver's relationship. "I feel like it was very adult and reflective of a real relationship that's built on more than just stolen looks and superhero exploits."
What seems to be more confusing now is Amell posting a photo on his official Twitter account with Oliver and Felicity seemingly getting married with the caption "Huh…" Fans are already fussing about the snapshot stating that there is no way it is real time given the couple's current status. Some, on the other hand, speculate that it might be a dream or even a flash forward.
Find out more about "Arrow" season 4 when it comes back on March 23 with an episode titled "Broken Hearts."