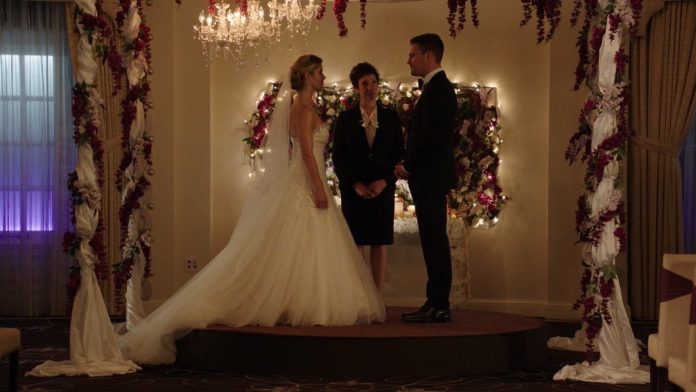 "Arrow" season 4 is currently on a month long hiatus and when it comes back, it will aim to answer a lot of questions that were left hanging for fans to ponder on.
The last episode was nothing short of an emotional roller coaster. While everyone is racing against time to get William back from Darhk (Neal McDonough), Felicity (Emily Bett Rickards) had to remain nonchalant upon knowing of Oliver's (Stephen Amell) son. Now that they have brought back the kid back to safety, everyone is clamoring to know how the current situation will affect Oliver and Felicity or Olicity, who are engaged to be married.
As previously reported, Amell posted a photo of Oliver and Felicity seemingly getting married but what is more confusing is in the flash forward episode, Felicity is seen not wearing her engagement ring.
"It literally said in the script, 'NO RING,' and I was like, "OK…." Filming that scene, we knew virtually nothing about what it really was about," Rickards recently told TV Line in reference to the flash forward episode where Felicity and Oliver are in shown riding a car.
"Your character knows what's going on but as an actor you don't, so it was about trying to get as much information from the writers and potentially where this story is headed…. Everything's going to make sense in the end, but at the same time, I found filming that eighth of a page to be very… I couldn't stress myself out about it, but I found it difficult. Because I like to know what the authenticity is," she further explained.
As of now, the season long mystery of who is on the grave has been plaguing fans of "Arrow." But rumors and speculations are flying out from all corners of the Internet. One of which is that it is actually Felicity in the tomb and Oliver just hallucinating her on the car with him to which Rickards said that she has heard of.
"No! Oh my God, how cool is that?! Like, not 'cool,' but no, I hadn't even thought of that…. Who do you think is in the grave?" she teased.
Elsewhere in the show, fans can expect more of Darhk as he is set to return in a big way before the season closes, Carter Matt reports. Catch more of "Arrow" season 4 when it comes back to the airwaves on March 23.