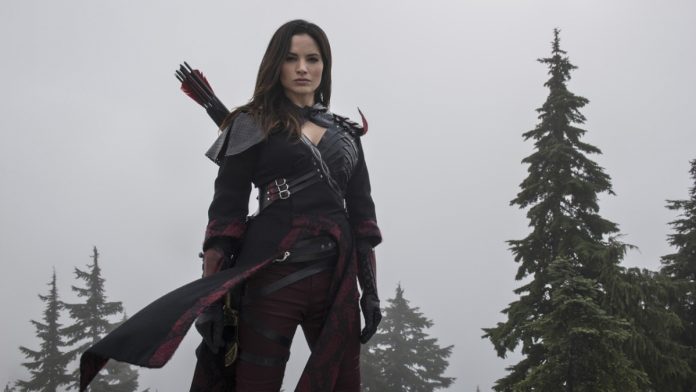 The previous season of "Arrow" made Malcolm Merlyn (John Barrowman) the leader of the League of Assassins after he assumed the throne of the Head of The Demon. However, in the new season of the show, it appears that Merlyn would not be enjoying the throne, as a frustrated heir is set to claim back what she is thinking is rightfully hersNyssa, the daughter of the late Ra's Al Ghul.
In a recent interview with ComicBook.com, actress Katrina Lawwho plays Nyssarevealed the fate of her character in the upcoming episodes of the season. She also talked about how Nyssa will continue to fight to be the new Ra's Al Ghul or Head of The Demon, which she firmly believes is a position that is rightfully meant for heruntil Malcolm stole it from her.
Given her very few appearances in the new season so far, will Nyssa's plans still be unveiled this season? Law said yes, and fans should wait for it. However, will she eventually become the leader of the League of Assassins? As per the charcter of Nyssa, it's a big yesbut fans have yet to see for themselves.
"As far as Nyssa is concerned, yeah, and very soon," Law said, pointing out that Nyssa is definitely on to becoming a female Ra's Al Ghul. "That's what she wants for sure. I don't know if that's what the writers are thinking but in Nyssa's mind, it's happening!"
And should she succeed on her plans, it appears that she won't be playing an antagonistic role in relation to the Team Arrow.
"I feel likeand I'm just gonna say 'when'when Nyssa gets her throne, the League of Assassins will always be her first priority," she continued. "Whether or not your agenda falls within what the League of Assassins believes in will dictate more of whether or not she will help you. But when it comes to Team ArrowI think because of the Lance sistersNyssa definitely has a soft spot for Team Arrow. I feel like, if they were desperate and needed her help, she would most likely lend a helping hand."
Catch more of Nyssa and the Team Arrow, on the fourth season of "Arrow," which airs every Wednesdays on The CW.