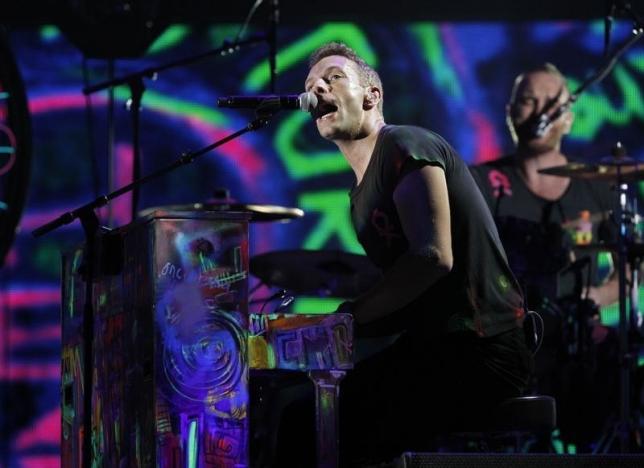 Since actress Gwyneth Paltrow and Coldplay singer Chris Martin "consciously uncoupled" more than a year ago, the two have managed to maintain an amiable relationship. Proof of how close the two still are is that Paltrow is a guest singer on "A Head Full of Dreams," Coldplay's upcoming album that will be released in December.
"A Head Full of Dreams" features the 43-year-old Paltrow's vocals on the song "Everglow." But while this marks her first credited contribution to a Coldplay album and her first U.K. recording, the Grammy-winning actress is no stranger to singing.
In 2000, Paltrow recorded a duet with Huey Lewis for their film "Duets." The pair sang a cover of Smokey Robinson's "Cruisin'," which spent a few weeks at No. 1 in Australia and New Zealand. In 2010, she recorded a cover of the song "Country Strong" for the film of the same name. The recording peaked at No. 30 on the Billboard Hot Country Songs chart and was nominated in the Best Original Song category of the 2010 Satellite Awards. In 2011, the actress sang Fleetwood Mac's "Landslide" on the TV show "Glee." The cover was one of the show's most-downloaded songs.
Apart from Paltrow, there are other names in the album's liner notes that may be familiar to fans.
Beyonc sings on "Up&Up," which also features guitar work by Noel Gallagher. She also contributed her vocals to "Hymn for the Weekend," which got some help from Avicii. Tove Lo can be heard on the song "Fun." Jay Z and Beyonc's 3-year-old daughter Blue Ivy is also in the album. In an interview with the Wall Street Journal, Chris Martin said that they recorded Blue Ivy when she went into the studio with her mom.
According to Martin, "Everyone who got asked to sing on our album has an important part in our lives."
"A Head Full of Dreams" drops Dec. 4.