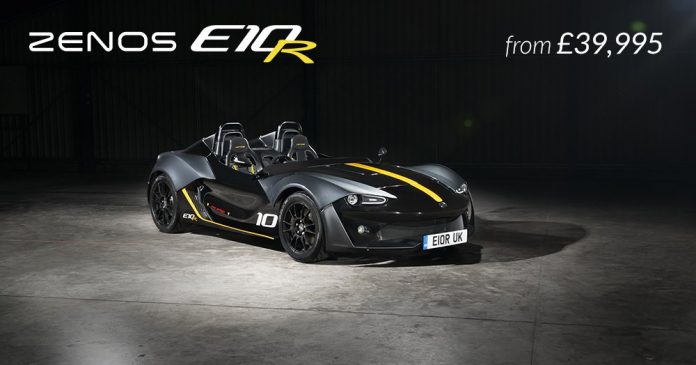 Car enthusiasts may be delighted to find out that British automobile manufacturer Zenos has unveiled the latest addition to its line of powerful lightweight cars called the E10 R.
The model followed the lightweight philosophy also used in the already released models, which include the E10 and E10 S. Both boast capacities of 200-horsepower and 250-horsepower, respectively.
Described as "its fastest, most focused and most thrilling model yet," the company's founder and managing director Mark Edwards stated on a press release, "As the fastest and most focused car we have yet created, the Zenos E10 R is a hugely exciting stage in the development of our company's story."
"The development of the E10 R was not just about making it extremely fast and even more responsive we've worked hard to ensure that the driving pleasure that lies at the heart of the Zenos experience has also been turned up to the next level," added the company's head of development, Chris Weston.
Under the hood, the powertrain is made up of Ford-sourced turbocharged 2.3-litre EcoBoost engine that has bespoked ECU, turbocharged 4-cylinder and 6-speed transverse transmission. They can deliver 40 percent more power at 350 bhp at 6,000 rpm and 19 percent more torque of 475 Nm or 349 pound-feet at 4,000 rpm.
Due to its high performing engine and fast response, going from zero to 60mph only takes about 3.0 seconds, while the top speed is touted at astonishing 155mph. It is further heightened by a newly-developed three-inch diameter exhaust system.
To keep things safer, the brakes have also been uprated with front discs and calipers, adjustable platform Bilstein dampers, and double wishbone design front and rear.
The E10 R is listed to weigh only 700kg, have 2,300mm wheel base, measure 1,560mm in the front track and 1,600mm in the rear. Overall, the length of the new vehicle is 3,800mm, 1,870mm wide, and 1,130mm high. The body is made of hybrid carbon composite with integrated aluminum spine for the cockpit. On the other hand, the sides have impact protection system and steel roll over.
Inside the unit, it is composed of lightweight twin-skin composite seats and 4-point racing harnesses. The E10 R also has 12V power socket, cockpit light, immobilizer, and multi-function TFT display which acts as the center console controller system.
The Zenos E10 R will be launched at the Autosport International 2016 which will be held on Jan. 14 to 17, 2016. Pre-orders are now being taken for the base price of 39,995, while the Drive Edition retails at 43,995.
.