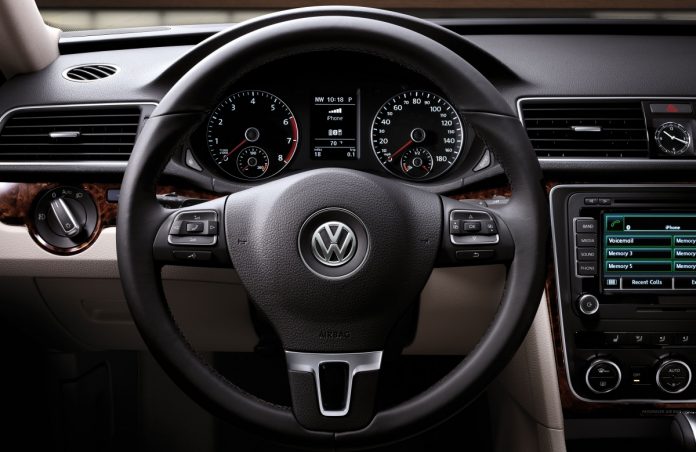 Upcoming midsize family sedan from Volkswagen, the 2016 Passat offers the same exterior feel but a more advanced interior when it comes to technology features and safety measures.
According to Road and Track, there is not much refurbishment on the outside design as the automaker seems to have invested more to what the inside looks like. Although it does not completely depart from its predecessor, the most noticeable difference are the steering wheel and gauge cluster while there are also some alteration on the trim pieces.
Based on the first drive review by TFL Cars, the bodywork includes a more aggressive appearance with the thinner shaped headlights, power dome, horizontal bar grille, and front air dam with integrated fog lamps. The R package being offered also comes with 19-inch wheels, rear diffuser and customized rocker panels with contrasting black accents.
While the R-Line comfort package for the additional $775 gives the owner V-Tex leatherette seating surfaces, power driver seat, heated exterior mirrors, heated washer nozzles and front seats.
The seats are said to be comfortable with the backseat spacious enough for two adults. Connecting smartphones via USB cable directly to the dashboard is now possible as the vehicle is equipped with new infotainment called MIB II. Moreover, it also supports both Apple CarPlay and Android Auto making it easier to access and control the music while driving.
Under the hood, there are two variants for the engine. The first one is 1.8-liter TSI turbocharged 4-cylinder 6-speed automatic transmission while the other option is the 3.6-liter V6. For those who may be waiting for a 2-liter turbodiesel, it may reportedly not become available anytime soon.
When it comes to pricing, the entry-level Passat has the price tag of $22,440 which is in the same category as the competitors Toyota Camry, Honda Accord, Ford Fusion, Nissan Altima, and Chevrolet Malibu. It includes the following features: 16-inch aluminum alloy wheels, dual-zone climate control, 5-inch Composition Color touchscreen, CD player, aux-in, a rearview camera and automatic Post-Collision Braking System.